What can you do in 13 seconds? Cross a street, take a bite of a munchkin, run a hundred meters? Drink a can of beer or energy drink? Watch a vine or an Instagram-length video? A lot, right?
But how about knocking down your opponent much faster than Ronda Rousey?
Yeah, like how far did that go from this...
...to this?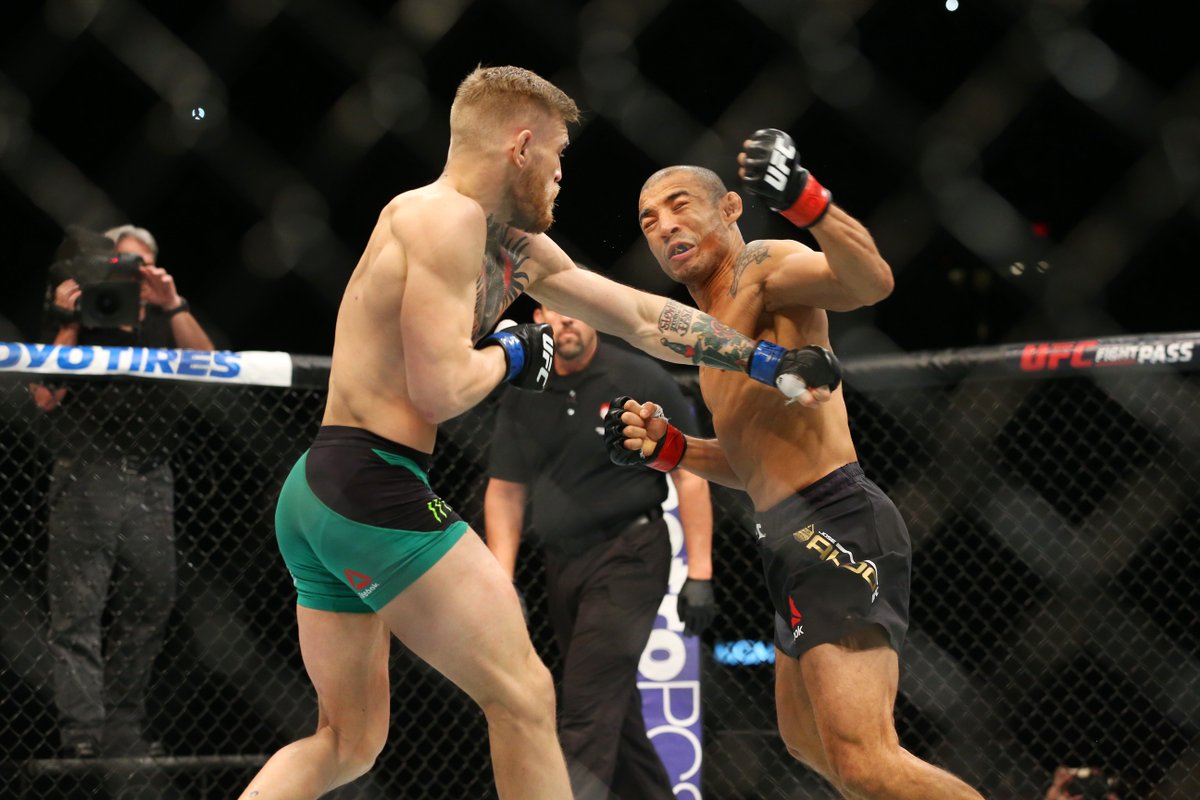 Photo credit: ESPN via Twitter
Wow. I was just streaming UFC 194 over the Internet while at the same time writing on my other blog posts for this month, when all of a sudden we got another quickie inside the octagon. (And we're not even talking about a round of sexy time here.)
Just barely two hours after witnessing the Milwaukee Bucks halted the Golden State Warriors' winning run in the NBA, we saw a sudden clean win by Connor McGregor against Jose Aldo to become the undisputed featherweight titleholder at the Ultimate Fighting Championship.
Yes, totally clean by execution but definitely a talk-of-the-world for Saturday evening (Sunday afternoon Manila time).
And this wasn't even a sports-entertainment show where Sheamus brogue kicked Daniel Bryan for the World Heavyweight Championship at WrestleMania 28. Another: it was faster than the 14-second win by Ronda Rousey.
Fuck, man. 13 seconds. Not even a quarter of your clock. It only took him that short amount of time to become a legitimate champion at UFC 194.
Seems Aldo's aggressiveness took its toll on him. His series of punches seemed no match to a left hook by strike by The Notorious. Hey, Connor even told Joe Rogan there's no actually power on that punch—but there is precision. Precision beats power, and timing beats speed. Now we're talking sports science here, huh? Seemed the leftie hit Also's head so much that he was sent down to canvas in; thus, prompting the referee to stop the contest right away.

And it also snapped Aldo's 10-year dominance at the octagon. Ouch! It's like a lifetime-built legacy got swept away in no time.
Now, whatever we have been imagining to a guy named Saitama (from the recently popular Anime series One Punch Man) seems transposed to this Irish man called Connor McGregor. Literally, that's a One-Punch KO right there.
Okay, he may call it less powerful, but at least that's more lethal than Big Show's KO punch.
And also he proved he can literally walk the talk no matter how many times he utters bullshit right there. Remember his promo tour at Brazil?
Damn, the shit just got real.
Now can we call it a day? Well, Aldo said that's not a fight. Joe Rogan on his brief insightful talk disagrees.
Whatever, guys. All I can say is that even if I wanted Aldo to win, I'm more foreseeing McGregor taking home the big W. And I meant big right there because it's not just for the title, but for his legacy as an MMA fighter, as well as for the cover of EA Sports UFC cover.
Well, that's sports right there, folks. Though I doubt this feud will be over soon even if Frankie Edgar stepped into the picture to challenge the title-holder.
Author: slickmaster | ©2015 september twenty-eight productions